| | |
| --- | --- |
| | Mellstroy |
Infamous blogger Andrei Burim, known as Mellstroy, rented 3 very expensive cars from Rolls-Royce, Ferrari and Lamborghini. Together with his friends, he started jumping on elite cars, crashed them and refused to pay.
The network has information about the next trick of the scandalous blogger Mellstroy, reports Gamebomb.ru. Many users found out about him after Andrei Burim beat his girlfriend on the air. This time it was the cars. Together with his friends, he decided to have a party in very expensive cars. A popular blogger and his friends rented a Lamborghini Urus, Ferrari F12berlinetta and Rolls-Royce Dawn. The guys drank right in the cars and accelerated to tremendous speeds. At some point, they were driving a Ferrari at a speed of 318 kilometers per hour. In the parking lot, the guys continued their fun. They climbed onto luxury cars and then started jumping from one car to another. As a result, they caused serious damage to Ferrari and Rolls-Royce. The damage was estimated at a huge amount – about 5 million rubles. However, Mellstroy refused to pay.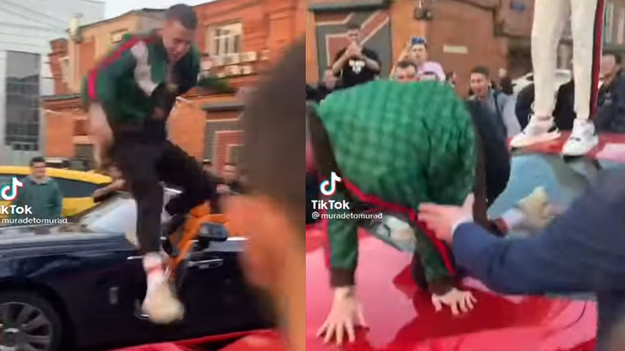 The owner of the elite car rental Miroslava told about the damage to the cars, Gamebomb.ru reports. She invited the blogger and his friends to conduct a damage assessment with them, but they did not show up. The Rolls-Royce Dawn was found to have dents on the hood and bumper, damaged paintwork, and damage to the all-round rear-view camera, which requires almost complete disassembly of the car to replace. There are alcohol and cola stains in the cabin. Rolls-Royce repair was estimated at a very large sum – 3.2 million rubles. The Ferrari F12berlinetta was not as badly damaged as it was in the film. However, the film also needs to be changed. In addition, dents were found on the fenders, hood, bumper and roof, as well as damage to the torpedo. In this case, the roof will have to be completely changed. The damage is estimated at 1.7 million rubles.
It turned out that the rent of three cars was not registered with the blogger Mellstroy. The documents were signed by his friend. The entire company denies its guilt, although there are videos of jumping on cars on the network. Bloggers claim that there were dents and other damage to the cars before they rented the car. They are not going to pay for repairs. Miroslava, in turn, plans to go to court.