Graffiti is often associated with hip-hop, but this phenomenon is much broader than the widest pants of an old school rapper. You don't have to listen to Eminem to paint on the walls, and some writers like Banksy use graffiti as a social and political statement. Street art is often fought against, but the best works deserve to be placed in prestigious galleries along with paintings by great artists.
Let's take a look at how graffiti is represented in video games.
Marc Ecko's Getting Up: Contents Under Pressure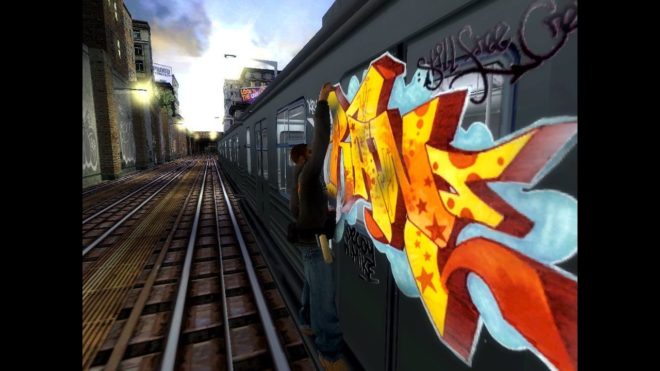 The list cannot start with any other game other than this one. Marc Ecko's Getting Up: Contents Under Pressure is a stunning action game from Mark Ecko, a youth clothing designer who tried himself as a game designer in this debut project.
Not to say that he fully coped with his task, but Getting Up left a noticeable mark on the gaming industry and the minds of young gamers-artists: to this day, in different parts of the world, from capitals to provinces, you can stumble upon tags with the name of the protagonist games.
The storyline of the project is dedicated to the adventures of the writer Train, who challenges the corrupt elite of the dystopian New Radius, and the gameplay is an action adventure with beat'em'up elements: the main character progresses through the levels solving spatial puzzles, fights rivals from rival gangs and law enforcement officers, and also bombs everything that he can reach, and often the player can choose what exactly he will draw. The soundtrack, in which Talib Kweli, The Notorious BIG, Mobb Deep, Fort Minor and other hip-hop stars meet, deserves special mention.
Buy
Kingspray Graffiti VR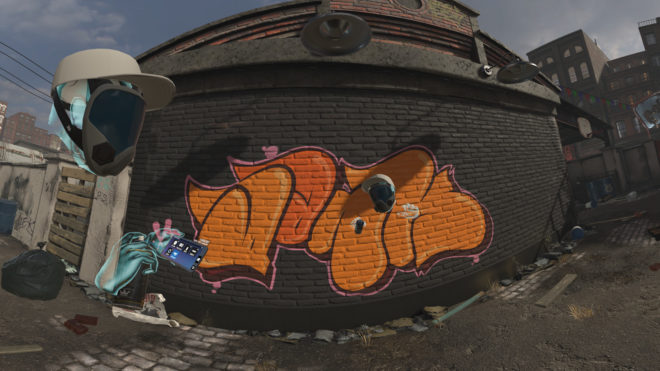 A VR game that maximizes your immersion in the drawing process. There will be no obstacles in the form of a screen between you and the wall, it literally (well, almost) will appear before your eyes. And in your hands a spray can will appear, for which you can choose the color, strength and density of the jet, as well as other effects. And you will have to draw not with a mouse, but with your own hands, using motion controllers.
Kingspray Graffiti VR delivers an authentic onsite experience, according to those who play. The game supports online multiplayer, so if you want, you can go on a virtual trip with friends – of course, if they have VR headsets.
Buy
Jet set radio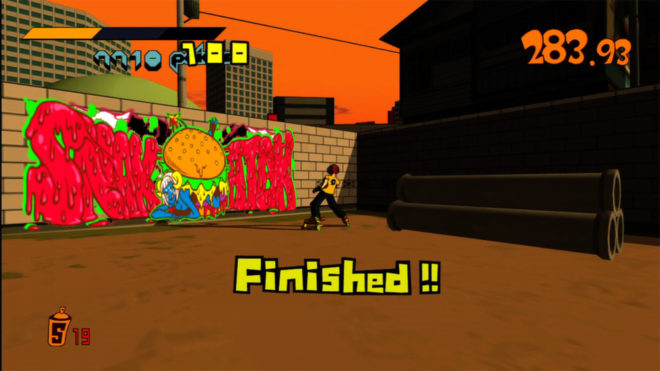 Jet Set Radio is an iconic platformer featuring parkour, village-shading graphics, fights, an explosive soundtrack and, of course, graffiti. Driving around Tokyo, you will get away from the police, paint on the walls, compete with the opposing gangs and upgrade your group.
Jet Set Radio has virtually no equal in terms of design, and you will be delighted with the beauty and ingenuity of graffiti. A very atmospheric game with the right mood – definitely worth your attention if you want to escape from boring everyday life.
Buy
Jet set radio future
A prequel sequel to Jet Set Radio, which continues the struggle of teenage miners against the Tokyo government, which oppresses freedom of expression. A new protagonist joins the ranks of the protesters and seeks to drown the capital of Japan in graffiti. The sequel has become faster and more aggressive, and the players have even more options. Alas, Jet Set Radio Future is not playable on PC: the game was released only on the Xbox, and is available on the Xbox 360 in Backward Compatibility.
The game is not available on official digital services
Graffiti bombing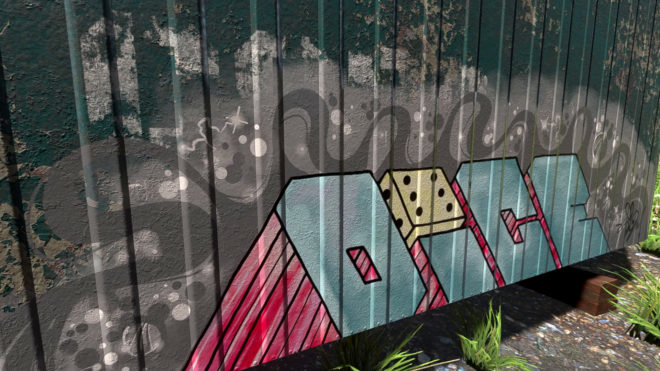 Another graffiti simulator for VR, in which you can draw from the first person, having at your disposal a whole palette of colors. You can customize the thickness and strength of the jet, bring to life the most daring sketches, and sometimes even face enemies in the form of aggressive watchdogs. Who Said Being a Writer Is Easy?
The disadvantages of Graffiti Bombing include a narrow range of possibilities and general incompleteness: the game is in early access, which, it seems, is in no hurry to leave.
Download
Bombing !!: A Graffiti Sandbox
A retro adventure in which you become a writer and bombard every square inch of your surface using a wide variety of paints. The developer has prepared several varied levels typical of graffiti painting: rooftops, abandoned buildings, subway tunnels, and added some amazing tracks from independent artists to the game.
In Bombing !!: A Graffiti Sandbox there are no dangers and challenges, but there are endless possibilities for a flight of imagination. Use them to create your best work!
Buy
The graffiti creator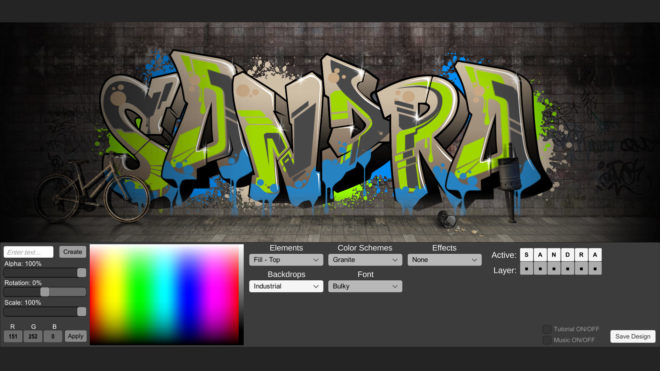 Not so much a serious simulator as a tool for creating beautiful inscriptions: here you do not paint graffiti with your own hands, but combine prepared fonts, select color schemes, backgrounds and other elements. Here you can bomb your name somewhere on the wall or place it in the decorations of an art gallery, but the choice of fonts in the game is small, and the entertainment can get boring very soon.
Buy
VR Graffiti World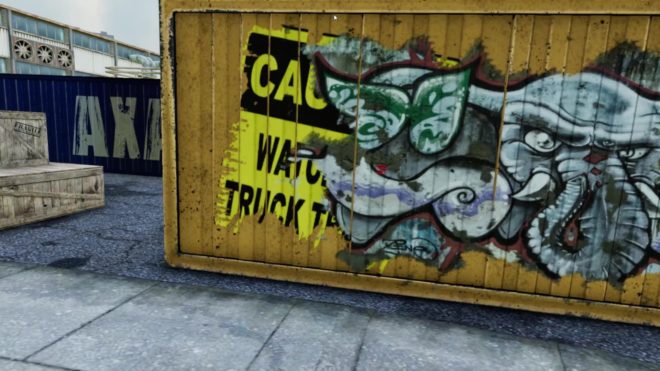 A VR game in which the developers propose to create beautiful street art. True, judging by the screenshots on the VR Graffiti World page on Steam, their own imagination was enough for the image of a stick-stick-cucumber-level man and a couple of verbal slogans. Perhaps you can do better – give it a try.
Buy
SLUDGE LIFE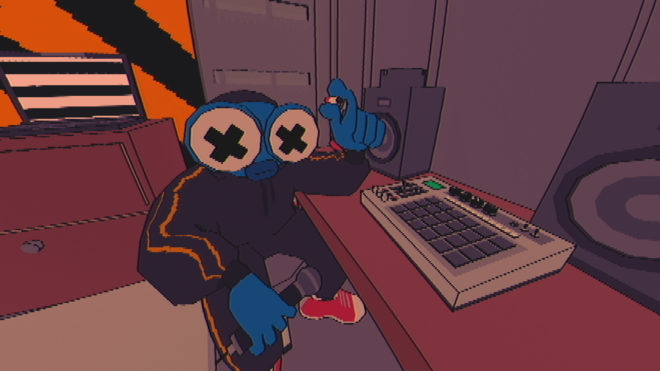 Extremely strange bully simulator with a picture in the style of the first PlayStation. In the role of a troublemaker, you go to an island where, for example, an anthropomorphic fly, a cat with two asses, and other equally interesting characters are waiting for you. Here you have to spoil other people's property, decorate the world with your drawings and fight a sinister corporation. SLUDGE LIFE is full of absurd humor, but give the game its due – it stays in memory for a long time.
Buy
Sideway: New York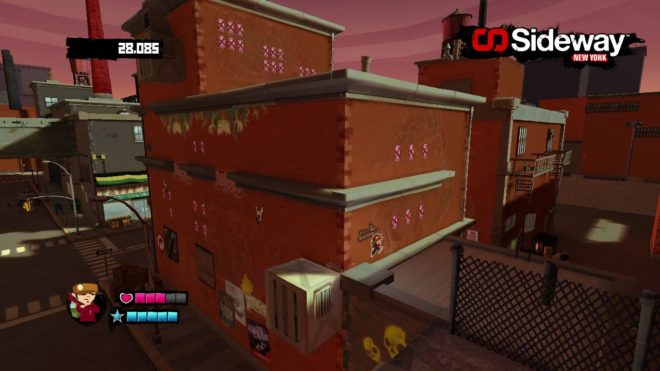 Sideway: New York is a fun game with an unusual perspective: the main character can move in a two-dimensional plane, while interacting with three-dimensional objects. The result is a puzzle platformer in which the walls of New York City buildings become a testing ground, and the change of perspective is sometimes confusing. The game has a style, but it pays much more attention to combat than art.
Buy
GTA San Andreas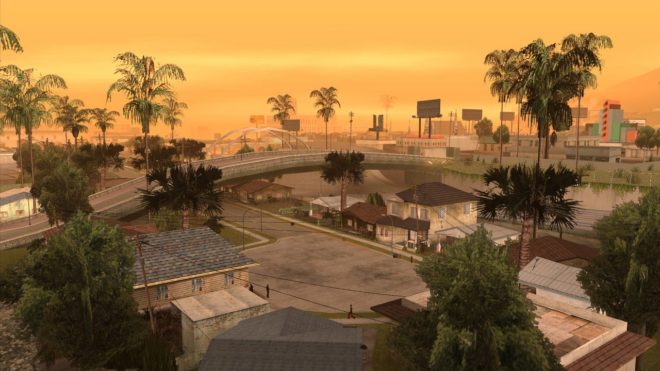 It is impossible not to mention GTA San Andreas in the context of our selection. Although there are no complex drawings in the game, and all creativity comes down to painting the tags of other gangs, many players devote a lot of time to this activity: firstly, to find all collectibles, and secondly, in order to show all competitors who are in Los -Santose master.
Buy
Bomb The World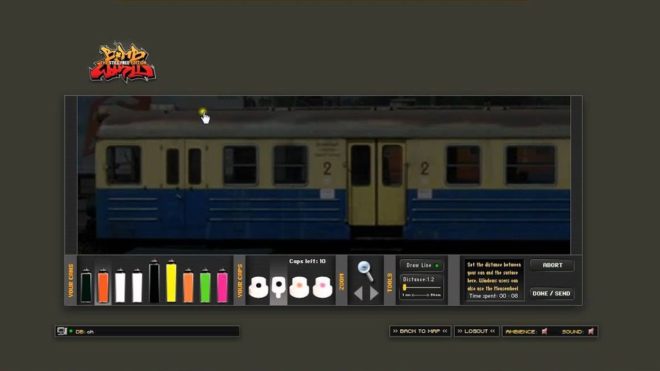 A browser-based MMO game in which gamers are invited to create their own drawings and compete with each other in the purity of execution. Tools – mouse and fantasy, locations – more than 20 territories located in different parts of the world. The game is now closed, but its ideological continuation Graffiti Unlimited exists, which is described below.
The game is not available on official digital services
ViveSpray / ViveSpray 2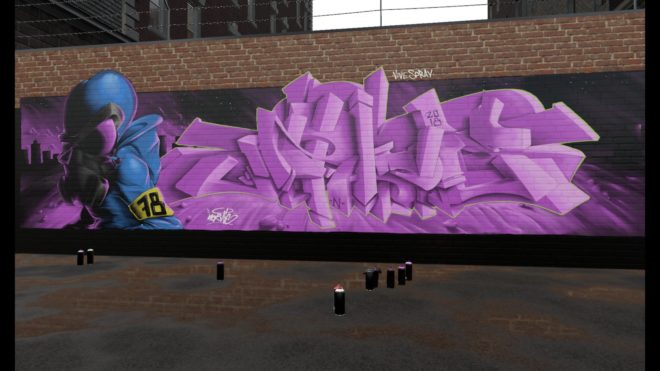 A couple of VR games that have nothing more than drawing. No police, missions, tests – just you and a spray can, for which you can choose the color of the paint, the strength and thickness of the jet. We recommend that you skip the first part and go straight to the second: there are more features and fewer bugs. Reviews of the game have noted many experienced writers who claim that it provides a gaming experience that is close to reality. Perhaps this is the best praise for a graffiti game.
Buy
Infamous: Second Son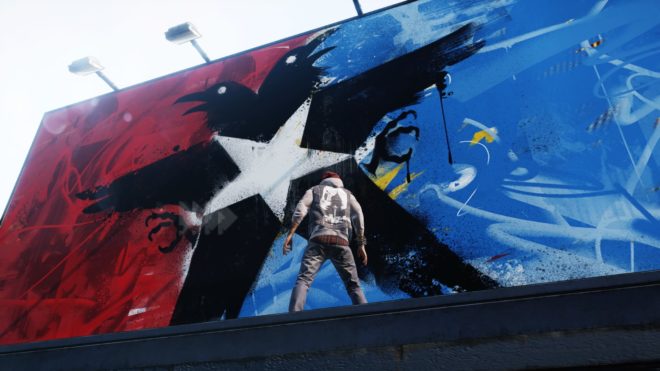 Infamous: Second Son is a PlayStation exclusive, a superhero game that protects Seattle from villains. Despite the fact that the main theme of the game is not devoted to graffiti, we included it in the selection for some side missions, in which the main character must bomb the city walls using ready-made stencils. The mechanics of drawing pictures are also interesting: the gyroscopes of the gamepad are used to their fullest, and you literally move the controller in the air to create work.
Buy
Concrete Genie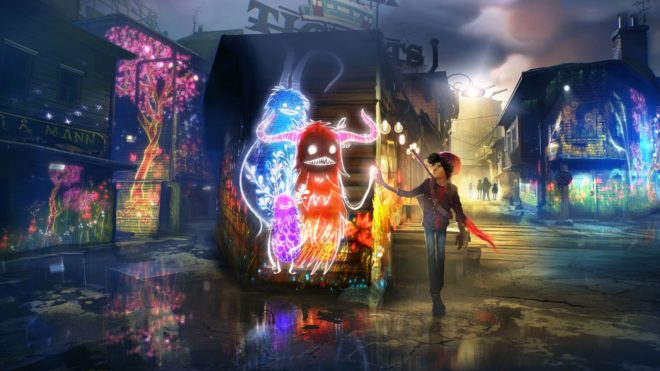 Another PlayStation exclusive game in which you play as a young artist. Painting the abandoned parts of the city, the hero learns to cope with bullying and finds himself, and at the same time – brings bright colors to the gray world. Concrete Genie uses motion control and gamepad gyroscopes to draw, while creatures created by the player come to life and accompany the protagonist on his journey.
Buy
SuchArt: Genius Artist Simulator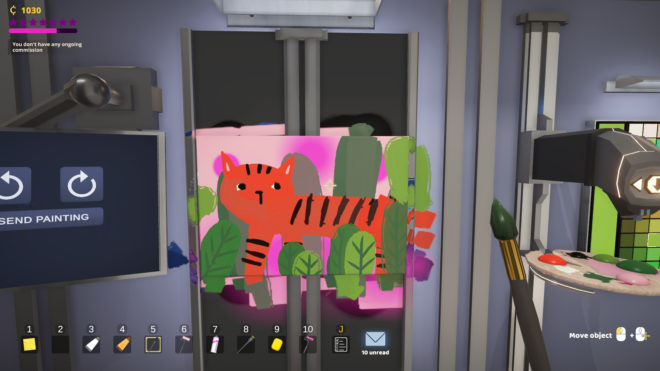 SuchArt: Genius Artist Simulator covers a wider topic than just graffiti: this is an artist's simulator, in which, among other things, you can draw graffiti, but no one forbids you to create in pop art, impressionism, baroque styles – the choice is yours! The game contains a lot of drawing tools, and, despite its Early Access status, it can already become an excellent platform for creating masterpieces.
Buy
Graffiti unlimited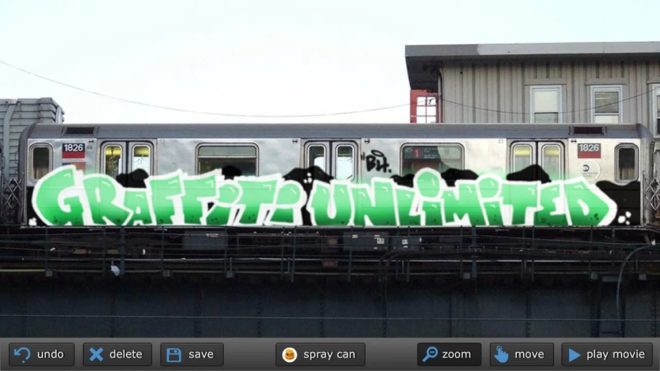 Graffiti Unlimited is a smartphone app that allows you to bomb walls, subway trains and other locations using different colors and brushes, and then share your creativity with the community. The game supports touch input and allows you to create very realistic graffiti.
Download
VANDALEAK – Sprays and Graffiti on the go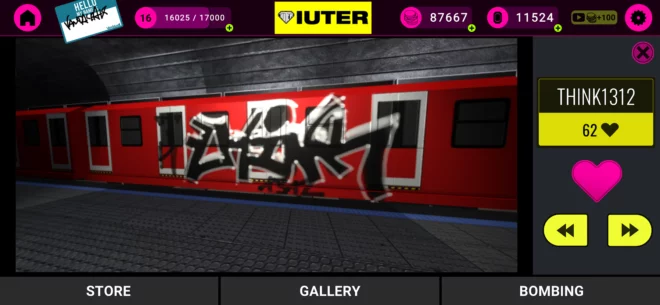 Another project for mobile platforms dedicated to graffiti. The game gives players models of trains, which they have to paint, guided by their imagination. An extensive palette allows you to choose the color you want, and using the sliders you can choose the thickness and strength of the spray. You can photograph and share the finished masterpieces with the whole world.
Download
Pending
Bomb Rush Cyberfunk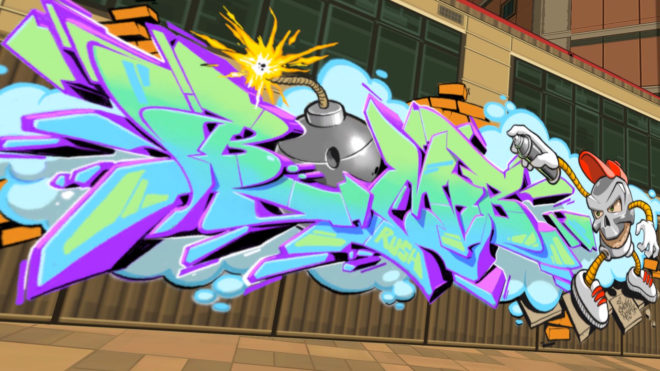 Bomb Rush Cyberfunk is a game about dancing, parkour and graffiti with a futuristic setting, a killer soundtrack and bright pictures. She looks like the spiritual successor of Jet Set Radio, and will invite gamers to conquer the metropolis with her unique style.
Steam page