| | |
| --- | --- |
| | STALKER 2 |
The creators of the highly anticipated first-person shooter STALKER 2: Heart of Chernobyl ("STALKER 2: Heart of Chernobyl») From the company Gsc game world revealed their new next game.
The head of the Ukrainian studio GSC Game World Yevgeny Grigorovich has updated his page on the social network LinkedIn, Gamebomb.ru reports. All fans of the upcoming post-apocalyptic shooter STALKER 2: Heart of Chernobyl immediately noticed this. In the general information section, the creator of the iconic series of games listed all the projects that he worked on in different companies, including those that never made it to release. Among them, of course, Stalker 2 is mentioned, but this time the attention of gamers was attracted by a different line. Evgeny Grigorovich pointed out a certain unannounced game.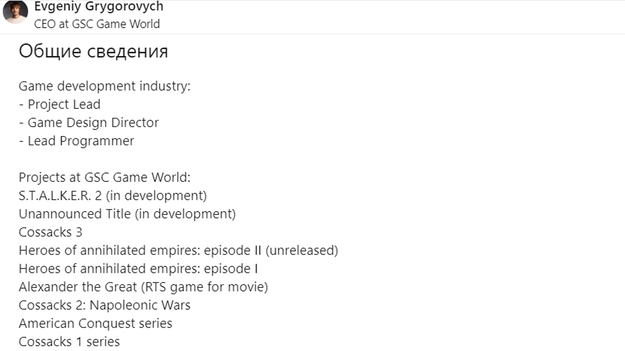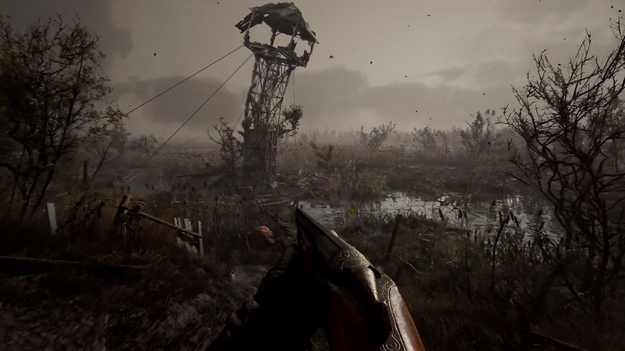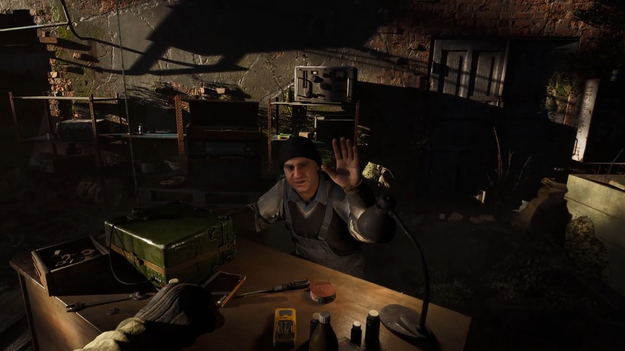 Unfortunately, the creators of STALKER 2: Heart of Chernobyl have not yet disclosed any information about the new game. Representatives of the GSC Game World company have not given official comments on this either. Fans of the studio have already begun to build their theories about what kind of game it might be. Most gamers considered the unannounced game a remake of the first part of the STALKER franchise: Shadow of Chernobyl ("STALKER: Shadow of Chernobyl"). The game could be ported to the new Unreal Engine 5 to give new players a glimpse into the beginning of this story. Other gamers believe that this is not about the Stalker series, but about the new strategy "Cossacks 4". It was this franchise that made GSC Game World a well-known studio. Players also speculate that the unknown game could turn out to be a completely new project in a new setting.
The nearest release of GSC Game World is scheduled for April 28, 2023. Shooter STALKER 2: Heart of Chernobyl will be released on PC and Xbox Series X | S. From day one, the game will be available to Xbox Game Pass subscribers on PC and consoles.