| | |
| --- | --- |
| | Alexander Emelianenko |
A sports duel took place between the famous mixed martial arts fighter Alexander Emelianenko and the popular blogger Artem Tarasov.
Blogger Artem Tarasov and experienced fighter Alexander Emelianenko met in the ring, Gamebomb.ru reports. The fight went according to the rules of fist fights, and the opponents put on MMA gloves. The fight lasted until the very end, so the winner was chosen by the judges. By unanimous decision, they gave the victory to Alexander Emelianenko. It is worth noting that during the battle, Artem Tarasov was knocked down four times, but each time he got to his feet. The blogger himself was pleased with how the fight went, but he is not going to stop there. Tarasov has already offered Alexander Emelianenko a revenge according to boxing rules, as he saw "fear in his eyes." He also noted that he made a cut to his opponent and is proud of it, since not every opponent of the famous fighter managed to achieve at least such a result.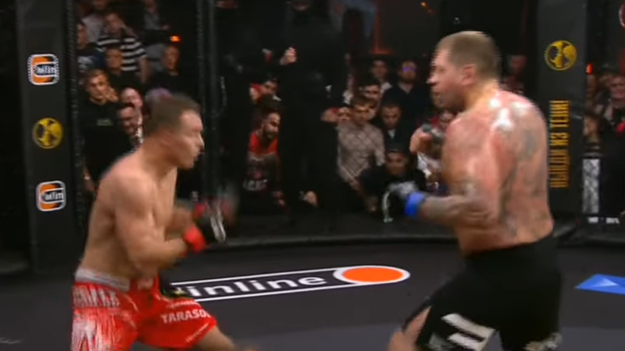 Tarasov also said that he talked with the judges after the fight, reports Gamebomb.ru. They told him that in the first round he won on points. Artem liked what he managed to achieve, but he noted that he was a simple blogger, so he perfectly understood his capabilities. Alexander Emelianenko evaluated the fight differently. He believes that his opponent confused the ring with the stadium, since instead of trying to fight, the whole fight was just running. Emelianenko tried to catch up with him, but even at such moments he remained dissatisfied, since the blogger regularly fell after several blows. He has not yet commented on talks about revenge.
The fight between Artem Tarasov and Alexander Emelianenko took place as part of the Our Business promotion tournament. For the fight, the mixed martial arts fighter received 10 million rubles, and the blogger – 5 million. Artem Tarasov maintains a video blog on YouTube about MMA, and is also engaged in pranks. From time to time he finds opponents for fights, but only in little-known semi-professional leagues. He only had one fight in the elite M1 Challenge promotion. On account of his 6 wins and 3 losses.