New footage has appeared on the network GTA: San Andreas from Grand Theft Auto: The Trilogy – The Definitive Edition with photorealistic graphics that shocked fans.
American company Rockstar games announced GTA: The Trilogy with updated versions of the three classic parts of the action series, but has not yet shown gamers how they will look, reports Gamebomb.ru. Fans of the franchise are trying to introduce new graphics for GTA: San Andreas themselves. Russian beginner developer Vladislav Zhadayev with the nickname darudnik has created a render of one of the most famous locations of the cult game – Grove Street. Carl "CJ" Johnson, the protagonist of the game, lived here, so fans immediately recognized the famous street. The author of the render tried to recreate the location with high details, as well as fill it with interesting objects. In his work, he used many modern technologies, so the image turned out to be photorealistic, which was very much liked by all fans.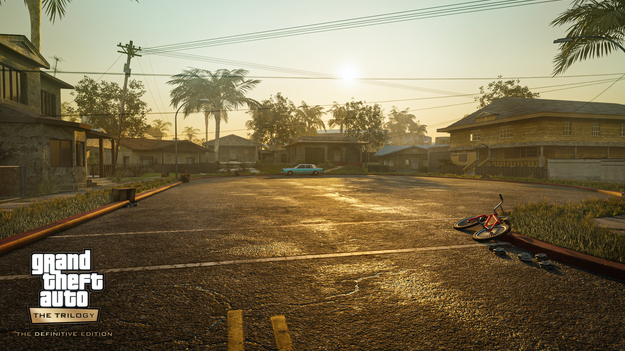 GTA SA The Definitive Edition pic.twitter.com/reteYLxyqk

– Darudnik (@ Darudnik1) October 19, 2023
Fans of the franchise began to compare the work of Vladislav Zhadaev with the graphics that they expect in GTA 6, Gamebomb.ru reports. They really liked how his version of GTA: San Andreas looks from Grand Theft Auto: The Trilogy – The Definitive Edition. At the same time, some gamers began to publish the image on social networks, calling it a screen shot from the expected trilogy. The original Twitter post has already received almost a thousand likes and over 70 retweets. In the comments, fans praise Vladislav for his work. Many of them hope that in GTA: San Andreas Definitive Edition, the graphics quality will be at least close to this option. Now the author of the image is going to create a similar render for GTA: Vice City.
There is no official scheduling information for Grand Theft Auto: The Trilogy – The Definitive Edition yet. Insiders claim that all three parts will simply be ported to the new Unreal Engine with minor changes to lighting, character models and their facial expressions, so there will be no photorealistic graphics.