We live in interesting times. A top gaming laptop has come to cost less than a similar desktop unit, and you know who it is. We do not find video cards, and this urges us to choose a gaming laptop, being aware that we receive more than if we chose to build a PC. And here's a powerful alternative from ASUS.
ASUS has some of the best gaming laptops. I'm not saying that, but most of those who tested them. You know them very well, we often present them here on the site and you will probably come across them when you go shopping.
ASUS has come up with many improvements to their gaming laptops and offers many benefits. On the model we tested we were able to enjoy a complete gaming experience, having not only powerful hardware, but also a fast screen and a mechanical keyboard of the highest quality.
The specifications are as follows:
Intel Core i9 11900H processor
RAM – 32GB
Storage – 2TB
Video card – RTX 3080
Screen – 17.3 inch 4K UHD at 120Hz or QHD at 165Hz
Others – 90Wh battery, Wi-Fi 6, Bluetooth 5.2, Thunderbolt V4
Screen
Regardless of the version you choose, the screen is wonderful. It looks gorgeous. It has very good colors, a strong brightness, a serious contrast. I just noticed that when they display a completely black image they can still be seen in certain areas, especially in the corners, white areas. They are only annoying when you play in a dimly lit environment and the background is black.
loudspeaker
No less than 6 speakers integrate this laptop with Dolby Atmos. The volume is high and I can say that in gaming it behaves much better than in music. It has space, bass, does not distort and plays the effects very well. I liked.
Design
From head to toe, this laptop is made of a matte tablet, very high quality, robust, and which gives you the impression of premium. And it really is. The trackpad is medium in size, very precise and pleasant to the touch. You can work extremely well with it.
The keyboard is mechanical and produces a satisfying, but annoying click in some cases. I'll leave you a video to see how it sounds.
It rises and stays tilted when you lift the screen, so it gives you a very comfortable position when you play. It is an ideal position. Plus it has a very nice integrated NumPad, but also a metal wheel for adjusting the volume that can be modified to take over other commands. From that wheel you can do much more with the help of ASUS software.
On the concept side it offers a proprietary power port, HDMI, LAN, USB Type with Thunderbolt, another USB Type C and headphone jack. All this being located on the left side.
There are only two normal USB ports on the right. The ventilation grille is also available on the sides.
The keyboard lift mechanism is solid. The hinges are sturdy and if you try to forcefully close the keyboard you won't be able to. There is a risk of breaking them and it is not advisable to do so, but if you try I tell you from now on that they are extremely solid. So is the laptop hinges.
It weighs around 2.6kg, which is a bit of a gaming laptop. In addition, the package comes with two adapters, one 100W and another 280W. The first is when you transport it and do office work, not having the strength to cope with games. It is smaller and more compact. The 280W is the main adapter, the one you can play with non stop.
Battery
One of the smallest autonomy I've had so far on a laptop. In a normal use regime we reached a maximum of 2-3 hours of autonomy. Consume the battery immediately even if you don't do much on it. Anyway, it's not a battery-powered laptop, it's gaming after all.
How does it behave in games?
We tested the laptop in high-performance games that also highlight Ray Tracing technology. See the table below.
| | | |
| --- | --- | --- |
| GAME | Details / Resolution | FPS AVG |
| Control | High / 2K | 85 |
| Assassin's Creed Odyssey | High / 2K | 74 |
| Watch Dogs Legion | High / 2K | 77 |
| BF 2042 | High / 2K | 69 |
| FIFA 21 | High / 2K | 109 |
| Death Stranding | High / 2K | 112 |
Operating temperatures and performance
The idle laptop has normal temperatures. The processor is around 50 degrees, and the video card is a bit colder, 43 degrees. These are normal temperatures. However, during the load, the processor reaches 85 degrees and the video card is still there. Sometimes the processor reaches 95 degrees for a few seconds.
I tested the SSD with CrystalDisk Mark, I ran a Cinebench R20, a Z CPU and it was enough for me to understand it. You see the results too. It's clearly a powerful laptop, and no one has to say that through tests.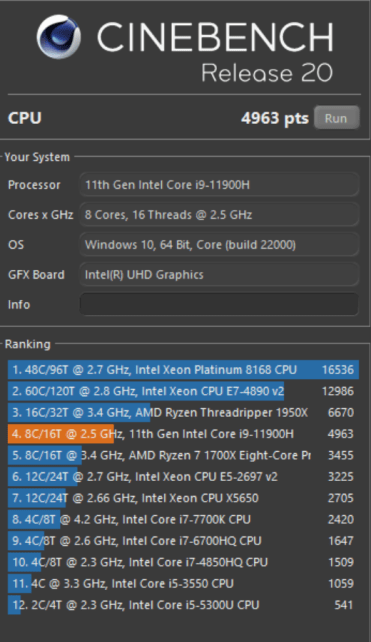 You can control your laptop and see additional information from Armory Crate, the dedicated application. It is a software where you have access to all the settings of the laptop and from where you can configure it as you like. You can choose to do OC, set the fan speed, change the screen color temperature or play with the audio equalizer.
Conclusion
These days I can only recommend gaming laptops. But be careful with the temperature and the processor. This model is clearly a grade 10 laptop and I can't blame her for anything bad. It is well built, has good quality materials, an advanced cooling system and powerful hardware. In addition, the attention to detail and Armory Crate make it even more interesting.
At eMAG it appears unavailable, so I don't know what price it would have.