Among the best peripherals I've tested are the ones from ASUS. I can put them in the Champions League at any time with Razer and Logitech. Strix Impact II is an excellent wireless mouse, does not cost a fortune and is a great alternative if you want something other than the other two brands mentioned.
Strix Impact II is a compact, lightweight wireless mouse ideal for those with a Claw grip. In addition to the classic specifications we are used to, this mouse also includes some hidden technologies.
SmartHop, for example, is a technology that scans the radio spectrum a thousand times a second, identifying interference around the 2.4GHz band and switching between channels to ensure a stable connection. The technology is there, but you have no idea when it's used.
It has 5 programmable buttons, a generous battery that gave me a week of daily use, 7-8 hours a day. It has a 16,000DPI sensor, 400IPS maximum speed and a maximum acceleration of 40G.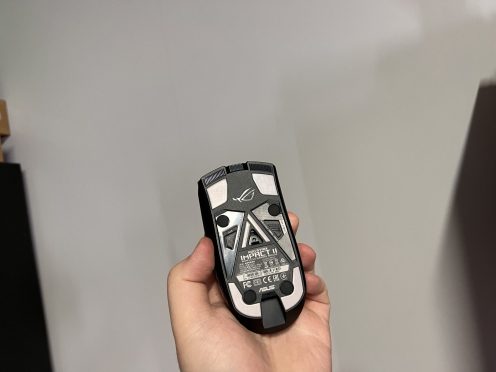 It can also be used on a USB Type C cable, it can also be charged with an integrated battery, and the discreet lighting is compatible with AURA Sync.
The DPI button is on the back of the mouse and this can be a problem for some players who want to quickly change the DPI. Otherwise I don't see a problem with it.
What matters most are the switches that can be replaced if they are worn or defective. They have a push-fit system that facilitates their change, and if you want to put on better ones, it is your choice. You can do it.
The mouse has rubber on the side for extra grip, it's made of matte plastic and sometimes looks a little slippery.
It works flawlessly in both wireless and cable gaming. There is practically no difference. I warmly recommend it. The PC Garage costs 299 lei.