Xiaomi surprised us, and although we used to receive phones from them for review, the most recent product tested was a TV. And not just any one, but a 55 inch / 139cm one that runs at 4K resolution.
Mi TV P1 is a TV in the budget segment like all most Xiaomi products and available in several sizes: 32 inch, 43 inch and 55 inch listed in Romania. The 43-inch diagonal has the same technical specifications as the 55-inch, and the 32-inch has a screen with HD resolution and weaker technical specifications.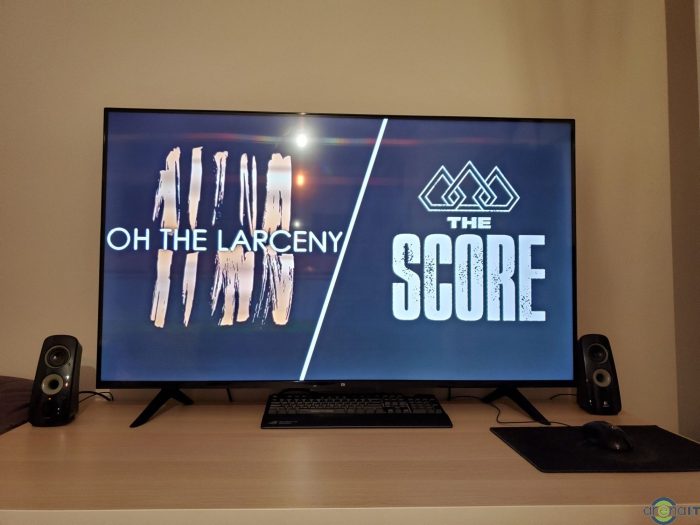 In terms of design and construction, we are talking about a frameless screen on three sides and two plastic legs for support. It is 89.2 mm thick and weighs almost 12 kg. It is unsurprisingly plastic, and the ports are easily accessible and visible if the TV is viewed from the left side. They are handy so you don't have to move the whole TV to access a specific port or to see if a certain cable is connected. The finish is quality. At the bottom are two 10w stereo speakers with Dolby Audio and DTS-HD decoding for powerful 3D sound.
Returning to the ports, the offer is complete. Features 3 HDMI ports, 2 USB 2.0 ports, CI card, composite input (AV) for connection to electronic equipment such as DVD players, DVB-T2 / C and DVB-S2 signal decoding, RJ45 LAN port for network connection and optical input – 3.5mm jack for connection to external speakers. It is compatible with bluetooth 5.0 and Wi-Fi 2.4Ghz / 5Ghz. The remote control offers a classic layout and is easy to use, with dedicated buttons for Netflix, Google Assistant or Amazon Prime.
The 4K screen is LED and runs at a resolution of 3840 × 2160 with a refresh rate of 60Hz. In addition to resolution, HDR10 + and Dolby Vision technologies contribute to image quality, which improves the level of detail in both bright and dark light. On the color side, 94% of the DCI-P3 spectrum is covered, ie 1.07 billion colors. Although the refresh rate is 60Hz, MEMC technology is used to add more fluidity to the image. It basically adds frames to videos at less than 60 frames per second to make them more smooth and natural.
For such a TV, however, I also needed a tailor-made film, so one of the films chosen was Dune. The experience was quite close to a cinematic one considering the size of the screen and the good level of detail managed to highlight the effort made to bring to life the source material on which the film is based. I then switched to the Spider-Man: Into the Spider-Verse animation and wanted to end with Venom 2, which I chose as a movie where most of the action takes place at night (to limit the money spent on effects special). The image remained clear and intelligible, but it highlighted the weak special effects of the film. It's not the TV's fault, but it can happen when you have a good-screen TV, and the movie is mediocre. I ended up reviewing another movie with Tom Hardy: Mad Max 2015, who preferred to stay away from computer effects and rely on practical effects. Although I saw it for the third time, the film was absolutely a delight on the magnificent 139cm screen, and the frantic action left me speechless again. On the audio side, things could be better, this impression left me after Hans Zimmer's column in Dune didn't convince me, and the one composed by Junkie XL in Mad Max didn't sound as full of adrenaline as I remembered. . The speakers are good enough for an above average experience, but if you want to have a sound that matches the image, at least one soundbar is recommended. If you want to leave it alone with the background music on the audio side, the difference will be even more noticeable.
Many settings are available for both image and sound, from predefined ones such as choosing the color spectrum, the type of activity performed, to advanced manual control.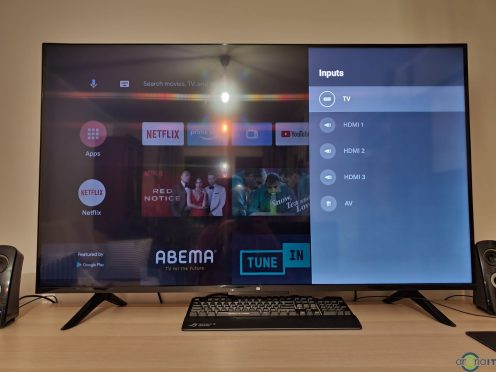 Mi TV P1 is not a simple TV, but a smart one, so inside it beats a heart of Android, more precisely one of AndroidTV version 10. Its interface is simple and easily customizable. The emphasis is obviously on applications that stream content. Youtube, Netflix or Amazon Prime Video are certified and pre-installed on it. The Google Play Store is available if you want to increase the range of applications or if you are a fan of Plex TV or other such applications.
AndroidTV can play content from other sources, including viewing pictures, and presenting a TV resource management program called TV Manager.
The operating system runs very well and responds naturally to commands. When I used YouTube, I preferred to use Google Assistant instead of the remote control just to add an extra layer of comfort to lying on the couch.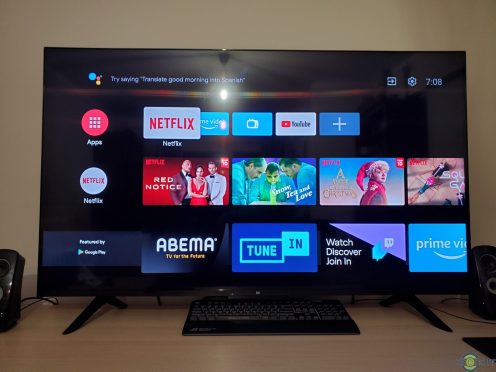 The configuration chosen to run AndroidTV consists of a quad-core MediaTek MT9611 processor, 2GB of RAM and 16GB of storage. Of the 16GB, 10GB is available for storage or applications.
The TV's built-in Chromecast lets you stream content from your phone or tablet easily.
Mi P1 TV with a diagonal of 55 inches costs 2800RON in Romania, and the 43 inch one costs 1900RON. Both are good value for money TVs. The 4K resolution screen offers a quality image and is worthy of a mini home cinema, AndroidTV and Chromecast provide it with a strong multimedia side, and on the connectivity side it offers everything you need.