| | |
| --- | --- |
| | Sushi |
An advertisement for a roll and sushi delivery network popular in Russia infuriated residents because of the use of swear words, so they decided to punish the owners.
The infamous YobiDoyobi rolls and sushi delivery network has again attracted attention, Gamebomb.ru reports. This time, residents of Volgograd complained about the network because of yet another provocative advertisement. A billboard appeared in the city with the slogan "Don't swear and cook deliciously" Russians were offered to order a two-kilogram set of rolls called "KuniLi". Local residents wrote a complaint to the local office of the Federal Antimonopoly Service, in which they accused the sushi delivery network of using mats and obscene language in advertisements. They also noted that the billboard is located in a residential area near the school and kindergarten, so children can see it.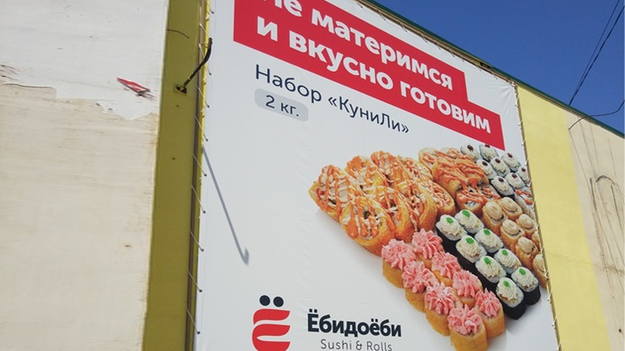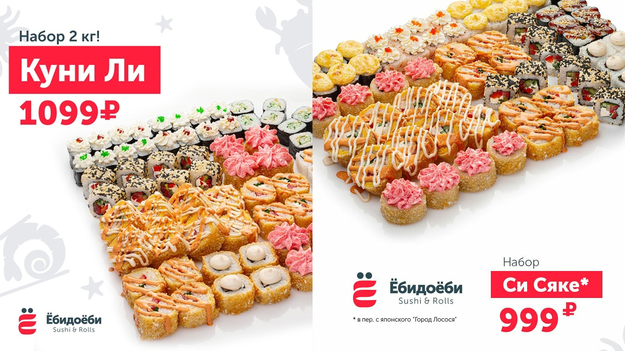 The FAS department in the Volgograd region opened a case against a local entrepreneur, Gamebomb.ru reports. He refused to admit his guilt, as he was engaged in a franchise business and receives all advertising materials from the head office of YobiDoyobi LLC. The entrepreneur also believes that the words used in the name of the company and on advertising posters are not obscene or obscene. He translated the name of the network from Japanese as "Day of the week – Saturday", and the set of rolls "KuniLi" – "state" or "country".
FAS officers considered it inappropriate to use transliteration of foreign glories, which sound very close to obscene words or obscene words. Since in Russia the creators of the franchise failed to patent such a controversial name, the antimonopoly service recognized a violation of the Advertising Law (part 6, article 5). An entrepreneur from Volgograd was accused of "using swear words, obscene and offensive images, comparisons and expressions." YobiDoyobi LLC (Krasnoyarsk city) was also called as a defendant.
The roll and sushi delivery network faces a fine of 100 to 500 thousand rubles. In addition, the FAS department for the Volgograd region plans to apply to the Federal Tax Service with a proposal to forcibly rename the franchise.